Hello Tiger Fans! Glad to be bringing home the boot, but I know that didn't have to be a one possession game. It seems like after almost every win (except Georgia and Auburn) we all leave with a sense that we didn't accomplish all that we could've. I hate to repeat things in every single blog, but there is a big problem that LSU cannot finish a game and I think it could come back to bight them against a mentally disciplined bowl team.
Why does LSU consistently lose a strong lead to make the score closer than it has to be? Is it because we physically or mentally can't play four quarters? Are we tired out by the end of the third quarter or do we think that we have already won the game? These are the questions that constantly surround us after we leave our couches on a Saturday evening. They suck the life out of a win and make you impatient for the next game. It's unsatisfying.
This is the same reason we lost a very winnable game to Florida in the fourth quarter. We had a five-point lead with ten minutes left and we blew it. We couldn't match their energy through the final minutes and we made several terrible mistakes with the game in balance.
Against Arkansas, LSU had a 24-3 lead going into the last quarter, before our defense, who had only given up eight first downs and three points through the game, gave up 14 points. All while our offense struggled to score.
That story line has to change this Saturday in Death Valley against Rice (who has a ten-game losing streak). I need to see LSU run them out of Death Valley for 60 minutes, so that I will never have to have this conversation again.
All that said, I still saw a lot of good from the LSU football team. After all, it was 24-3 going into the fourth quarter. We moved the ball at ease the whole game. Joe Burrow was great when he threw the ball. He was over 70 percent with a couple long passes to Justin Jefferson, who led the receivers with 117 yards. They truly had no answer for our conservative offense. We ran the ball on them, until they could slow it down. It was, at times, so downright dominant that it was funny.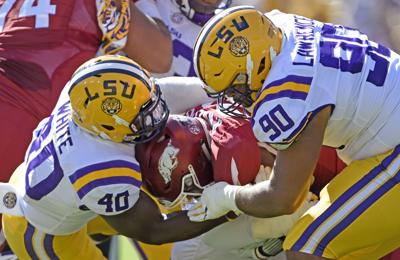 We have a strong team and we are going to show for it!
GEAUX TIGERS!